John Steven Calder
I am a Veteran. Cold War 1976-1980. Jet Mechanic on KC-135's and B-52's. Proud Member of the Strategic Air Command. Served honorable and proudly. Unfortunately, I had an accident, no fault of my own, I broke my back in 1979. I was 21 years old. I was discharged in with instruction to receive on-going health care from my local Veterans Administration Hospital. The Veterans Administration denied me heath care or disability for 34 years. They could not find my medical records.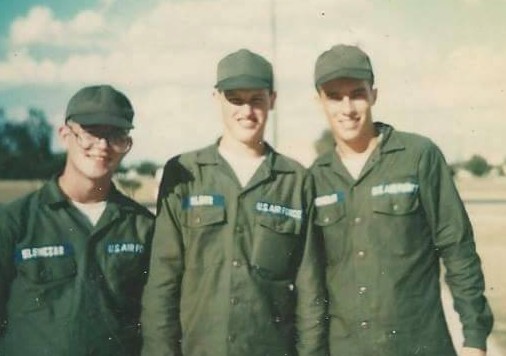 Lackland AFB 1976
As a disabled veteran, I have spent quite a bit of time at the Veterans Administration Hospital at Fort Miley in San Francisco. I'm there at least twice a week receiving care for a bad back, loss of hearing, severe depression and recovering for a host of issues caused by a stroke I had at the VA, due to a medication foul-up.

Chanute AFB 1976
What I see every time is Veterans, young and old. What captures me the most is the look in these guys eyes. You know when you see someone who, as we say, "was in the shit". Guys who saw things most people only see in their nightmares. That's what I want to capture with this project. Their "Eyes", that's the narrative.
Look at 5000 portraits of these guys and ask "what do you see"? That's the basis of my project. I will give each Veteran a  portrait for free, for their participation in this project.
It's my way of saying "Thank you for your service".
This project is dedicated to my Mom, Katie Freeman